In each newsletter, we are spotlighting one of the Park Scholarship cohorts. This month, a few members of the Class of 2024 talked to us about their PEG experiences.
Anagha Jandhyala, Durham NC, Computer Science Major: This year has been very busy, but very fun as well. I recently was able to see all my friends after winter break, and it's been a very nice transition back to being on campus. Just the atmosphere of being back at State, especially with all of the student life and athletics has already made the start of this year great!
Robert Kobrin, Greensboro, NC, Biomedical Engineering Major/Spanish and History Minor: Junior year has been incredible. Coming into college with COVID was difficult, but I really feel that I hit the ground running this year in terms of both academics and college life in general. I've managed to pull off a pretty nice work-life balance, which I'm really proud of.
Marina Kapitanov, Midlothian, VA, Biomedical and Health Science Engineering: After returning from studying abroad in Germany for my second semester of sophomore year, I definitely had to get back into the groove of my engineering classes, but I'm happy to say that I have had a couple chances this year to keep taking classes I'm interested in like, Spanish and Japanese.
Kennedy Fipps, Greenville, NC, Social Work Major/Nonprofit Studies Minor: Although I am in my second semester of junior year, this will be my last semester as an undergraduate! I am graduating early and hope to attend the one-year accelerated Master's in Social Work graduate program at NC State beginning in May for my fourth year. This year has treated me well and has been full of preparation for my BSW Field Placement, which I am currently in at Healing Transitions here in Raleigh.
Emma Grace Barnes, Charlotte, NC, Biological Sciences- Integrative Physiology and Neurobiology Major/Social Work Minor: It is so crazy to think I have been part of the Wolfpack for so long! This year has been great for me. I am finally taking my elective courses so I am enthralled by all my classes and content, and I have been able to create a great work-life balance which has been serving me well!
Meredith Gaskill, Salisbury, NC, Fashion and Textile Management Major/Business Administration Minor: Being a second semester junior feels crazy! My time at NC State has been so fulfilling so far, and I can't wait to see what the rest of my time here holds. I studied abroad in Florence last spring, so it is good to be back in Raleigh for a spring semester!
Anagha: I participated in a study abroad Maymester program in Seville, Spain to learn about marketing in an international setting. I had never been to Spain before or traveled alone, and so I wanted to step outside of my comfort zone and try a new experience. Studying abroad was one of my favorite experiences of college so far. I was able to see different businesses ranging from olive oil factories to a local vegan bakery, and learn about their business stories, while also understanding how marketing has played into their success. In addition, I was able to explore the city, seeing some of the most beautiful monuments, while also getting to meet locals and friends that I will have for life.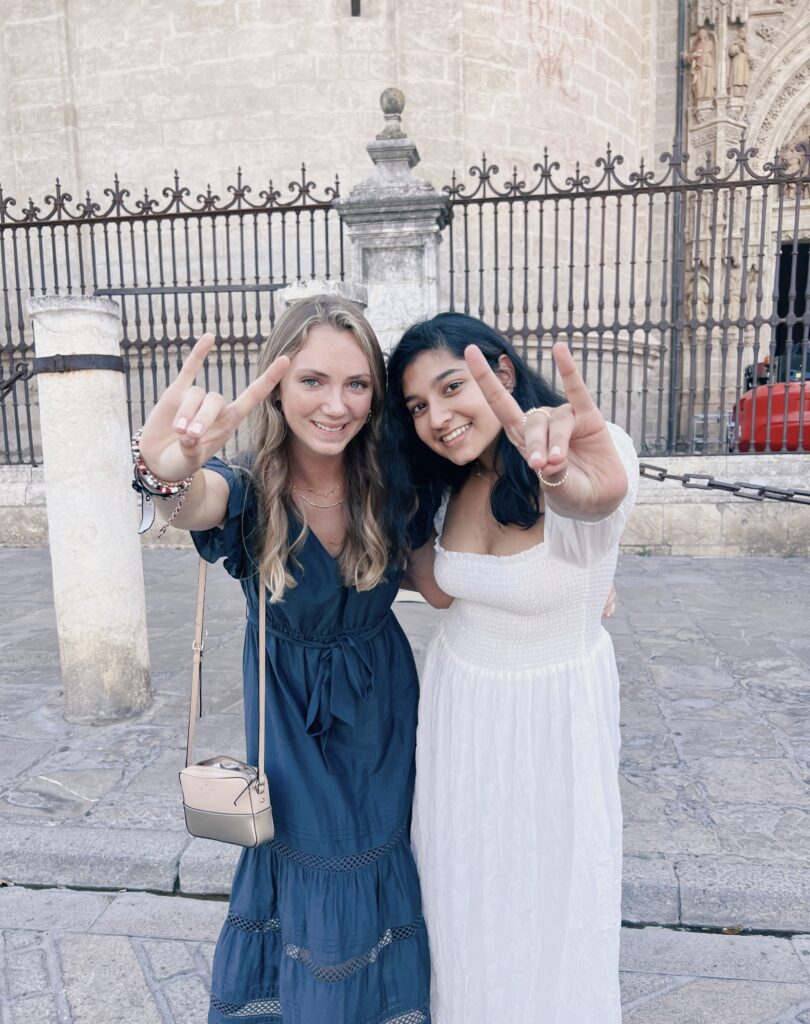 Robert: I think that PEGs are one of the coolest things about the Park program, and mine was an incredible experience. My favorite PEG so far has been my historical exploration/cultural immersion PEG revolving around the relationship between the continental United States and Puerto Rico. I first became interested in the topic because it provided an intersection between history and Spanish courses that I was taking. From a historical perspective, I was able to visit key sites such as Fuerte Caprón near Guánica, a fort overlooking where the United States invaded during the Spanish-American war. While at the fort, I met a local couple who invited me to their home and talked to me for hours about Puerto Rico, their experiences in the continental United States and my trip. Experiences like these, more common than I could have hoped for, were the highlights of my trip. My PEG to Puerto Rico supported an educational experience that allowed me to take knowledge learned in the classroom and see it come to life around me, and it's an experience that I'm incredibly grateful for.
Marina: I received two PEGs this year, one for my study abroad in Germany, and the other to support a research internship I set up at the Bulgarian Academy of Science in the months before my German semester began. I was very excited at the opportunity to start my pursuit of working internationally, especially in research, and was very appreciative that a PEG could make it happen financially.
Kennedy: Over the summer, I traveled to Florence, Italy, to study abroad. I applied for this PEG because traveling is a deep passion of mine, and I wanted to experience living and learning in the world on my own. I also received a PEG to become a certified birth doula. I am incredibly grateful for that PEG because it has supported my career goals of supporting underserved and underrepresented women by providing women's health education.
Emma Grace: My PEG experience this past summer was absolutely phenomenal. I had the opportunity to travel to Trujillo, Peru with other students across the nation and experience first-hand medical care and campaigns in the community. I got to work in local clinics and hospitals and participated in medical classes during my time there as well. I wanted to apply for a PEG for this trip because it was the perfect combination of my interest in medicine and my interest in the Spanish language. I knew the trip would encourage personal growth in all four pillars and I can successfully say that it did!
Meredith: I received a Park Enrichment Grant for my experience abroad, so that support allowed me to travel and experience many different places and cultures. I was able to visit France, Germany, Ireland and Switzerland by utilizing my Park Enrichment Grant funding! I have also used Park Enrichment Grant funding to help with my living expenses during a past summer where I interned with a fashion designer in Maine! During the fall semester, I received a Park Enrichment Grant for a short-term abroad experience where I will pursue academic enrichment outside of the classroom to benefit my degree program thus far.
Anagha: I am currently in a service sorority, Omega Phi Alpha, on campus. We work to build a community of women who are interested in service, and making an impact on the world around them. As leadership chair, I specifically work within my sorority on personal and professional development, and curating events that can help us reach our full potentials. I am also a business analyst in Consult Your Community, a non-profit organization working to provide consulting services for local businesses. Through this experience, I have been able to help people around me, while also learning more about a possible career path. With the Park Scholarship program, I serve as a Park Ambassador. Most recently, I helped host information sessions about NC State and the Park program to all of the wonderful semifinalists.
Robert: I love staying busy around campus, so I'm involved in a variety of activities. I currently serve as a Technology and Innovation Officer for the Helping Hands club on campus, where I help to lead 3D printing and CAD for a group dedicated to creating 3D printed prosthetics for children with limb differences. The current president of the club, Annie Kate '23, is a Park Scholar and is taking the club in an incredible direction. I'm also heavily active in the Biomedical Engineering department as an undergraduate researcher and a teaching assistant. Outside of academics, I play a variety of intramurals (shoutout to the Raleigh Football Team) and work on my language skills through helping with the English Conversation Club and Spanish translating through VOLAR. Through Park specifically, I help out as a Park Ambassador. Finalist weekend is coming up and I'm excited!
Marina: This year has definitely been busy, but I've enjoyed finally being back to all the normal activities at NC State and getting involved! In the past, I have been a part of organizations like the Society of Women Engineers, the Helping Hand Project and Engineers Without Borders. This year, I have kept my focus on EWB as part of the Guatemala Water Systems Project grants team. I enjoy being a part of such a motivated community and having the opportunity to help others using my engineering education. I also play intramural volleyball. A couple of the Parks and I have played together for a couple seasons.
Kennedy: On campus, I am the founder and co-chair of the Social Work Student Ambassadors organization, and I have spent much of my time organizing events and meetings for that. Last semester, I planned and executed two documentary screenings in Witherspoon to share the film You Belong Here with students and community members. LGBTQ+ inclusion is very important to me, especially on campus, so it was special to share something that was created in my hometown of Pitt County and by people that I know and love dearly.
Emma Grace: One of my main extracurriculars is being part of the Krispy Kreme Challenge Leadership Team. I have been a part of the team for two years and have had great mentors (some of whom are also Park Scholars). I also am a University Ambassador and a TA for organic chemistry with Park Faculty Scholar Kay Sandberg.
Meredith: The Park Scholarship program supports my passions and interests by providing a community to bounce ideas back and forth, and provides support once ideas become plans.
Anagha: The Park Scholarship has been such a great resource and support system for me. I remember vividly as a freshman not knowing exactly what I wanted to do, and what I should major in. I reached out to the Park staff, and was able to set up meetings with a bunch of Park alumni, who gave me insight on what majors I would be interested in based on what I enjoy doing. Tyler Maloney '13 suggested I try majoring in Computer Science, which turned out to be the best decision I could have made, as it's my current major and one that I enjoy.
Robert: I came into college fairly unsure of what I wanted to do. I knew that I liked robotics, history and travel, but figuring out how to explore all of those interests was beyond me. The Park Scholarship has provided me with both the mentors and resources needed to work through my interests and figure out a more definitive plan for my future. Having the Park Staff and the connections that I've made through the program, such as my Faculty Mentors, to talk through decisions has been incredibly helpful at every turn. I'd like to specifically highlight the Park Faculty Mentors and the PEGs. My mentors, Naji Husseini and Frances Ligler, have been incredibly instrumental in my time here at NC State. As I mentioned above, PEGs have also presented me with opportunities beyond what I ever thought I would experience in college. Although I'm still unsure of the specifics of what the future holds, I know that Park has had a huge role in both shaping my experiences so far and preparing me for whatever comes next.
Marina: The Park Scholarship supports my passions and interests by providing a supportive community and extensive network, space for structured reflection, and the opportunity to enroll in and focus on the classes I want to take. Because of the Park Scholarships, I am able to feel confident in my biomedical engineering degree, while also having the ability to continue my language education, as well as engage in courses that supplement my degree and allow me to expand my perspectives. I studied abroad, fulfilling one of my personal and academic goals. I have also benefited substantially from the alumni network, receiving advice and answers to questions that are shaping my career plans. Finally, through the Leadership Academy and PPD, I am able to set aside time to reflect and reconsider how I engage with others, and how I will take steps to become a better volunteer, leader, and person.
Kennedy: The Park Scholarship supports my passions and interests by giving me the autonomy to step out of my comfort zone to try things I have always wanted to do. College is a time of growth, independence and opportunity, and I am so grateful that the Park Scholarship supports my journey of self-discovery.
Emma Grace: One of my main activities outside of academics is my nonprofit Lux, an organization dedicated to providing legal support and resources to survivors of sexual violence. I, alongside Catherine Carter, another NC State student, officially started this organization about a year and a half ago, and the Park staff, team, and students have all been extremely supportive of Lux and all of its endeavors.
Meredith: This year on campus, I have been spending a lot of time on Centennial Campus. At the Wilson College of Textiles, I'm the President of Tompkins Textile Student Council, the main governing body of the college of textile students, a lead ambassador for the Wilson College of Textiles Ambassadors, and I serve on the Dean's Council as a student representative.
Anagha: I am very excited to be graduating early this semester, and starting my masters in Computer Science next year through the Accelerated Bachelors/Masters program here at N.C State. I also recently accepted an offer to intern at the Boston Consulting Group at their new office in Durham, and am excited for all the new changes in my academic and professional life.
Robert: It hit me a few days ago that I have more semesters behind me as an undergraduate than I do in front of me, so I'm honestly just living in the moment and enjoying the moment right now. I'm going to (fingers crossed) run the Krispy Kreme challenge in-person for the first time in February, which should be a blast. My research is also in a really good spot now, so I'm in the process of applying to speak at conferences, which is scary but really exciting. I'm also deciding on my summer plans, although I'm confident that part of them will include a visit back to Barcelona to visit the friends that I made researching last summer. The fact that I have so much that I'm looking forward to is a pretty solid indication that the rest of this year is going to be awesome.
Marina: I am looking forward to different campus events this semester, my classes, and spending time with friends. Also, I am applying to a couple summer and study abroad opportunities, so I am looking forward to hearing back from those.
Kennedy: Over the next few months, my first doula client is due, I will finally be getting the hang of the swing of things at my internship, and I will hear back from the graduate school at NC State. There are so many exciting things happening, and I look forward to what opportunities come from these successes!
Emma Grace: I have a lot of traveling and concerts coming up in the next couple of months before the senior year that I am really looking forward to! My best friend, Beijul Shah '24, and I are going to a Taylor Swift concert in May to celebrate the end of junior year, and we are also going to Paris with the University Honors and Scholars program for Spring Break in March! I also have applied and am waiting to hear back from a summer NC State program in Australia, so fingers crossed it works out!
Meredith: The next couple of months, I'm looking forward to my summer internship with Macy's in New York City! It has been my dream to work in fashion in New York City and now this dream is coming true! I am also applying for a Park Enrichment Grant in order to receive assistance for my expenses while in New York, so I'm so thankful for Park support in order to be able to follow my many dreams!