It is with great sadness that we announce the passing of Dr. Gerald Elkan, dear friend of the Park Scholarship program and beloved NC State professor, on Wednesday, Sept. 28.
Dr. Elkan received his Ph.D. in microbiology from Virginia Tech and joined the NC State University faculty in 1958, where he taught microbiology for 40 years. Over the course of his career, he taught over 3,000 students, directed 30 master's degree students and 28 doctoral students, and published 125 refereed articles and three monographs.
When he retired from NC State in 1994, Dr. Elkan remained active in the areas of teaching, research and mentoring, and he supported the Park Scholarships program in numerous ways over the last twenty-five years. As one of the first members of the program's advisory committee, he provided input on the earliest framework of what the Park Scholarships experience would become, and he helped interview nearly every employee of the program over a two-decade span.
Dr. Elkan enjoyed spending time with students exchanging ideas and getting to know them beyond the classroom. He did so through teaching the freshman seminar and leading several study trips abroad. He served as a Park Faculty Scholar for the Classes of 2002, 2006, 2009 and 2011, and volunteered on the Park Enrichment Grant Committee for 23 years, stepping down earlier this year at the age of 92.
In addition to volunteering, Dr. Elkan stayed connected to the Park Scholarships program and many of his former students each week at the local Cup-A-Joe coffee shop in order to "solve the world's problems." This tradition was sustained over Zoom during the pandemic when they were unable to meet in person.
Mark Voelker, Class of 2002, shared the following about Dr. Elkan. "I'm sure I don't need to remind you all of Dr. Elkan's impact on the Park Scholarships, on any of us, or indeed on the rest of the world. Frankly, he's the only person I know who lent his name both to an ongoing Distinguished Lecture In Science and Society as well as a sandwich at Two Guys!… I recall meeting him at Cup-A-Joe one afternoon when I happened to stop by the Park office on my way back from a Friday class and [former Park Scholarships director] Laura Lunsford invited me to tag along as she was headed out for a coffee with some other faculty. I was a new kid from a small town studying computer science and he was an established professor of microbiology at the largest (and best!) university in the state. Still, we quickly found common ground–he had a home not far from where I lived in the mountains, and we quickly found ourselves swapping stories–among other topics, about whose county sheriff was in jail that week!
The rest, as they say, is history. One piece of advice that "Doc" gave me often over the years was to get out and see the world. It's as good advice today as it was for a small-town student back in 1998… I will miss my friend and mentor, but I'm thankful to have known him."
In 2013, the Park Alumni Society awarded Dr. Elkan a well-deserved Honorary Park Scholarships Alumni Award for his many years of service to the program. In 2016, Dr. Elkan suggested that the Gerald H. Elkan Distinguished Lecture on Science & Society, formerly housed within the College of Agriculture and Life Sciences, make a new home with the Park Scholarships program. Established by Dr. Elkan's past students, associates and friends in his honor, this lectureship supports an annual lecture at NC State by a prominent thought leader.
Eva Feucht '02, Director, reflected, "Dr. Elkan's honorary designation as a Park Scholar reflects his true embodiment of the program's pillars: he was a scholar, a leader, a servant, and yes, a character. He was a trusted mentor to hundreds of the program's students, staff, and faculty. His guidance was unfailingly thoughtful, practical, and wise. For me personally, knowing him first as a student as he guided my own cohort, and then working with him on the staff over the past 18 years, he was a constant source of encouragement and invaluable perspective. Each time I hear a speaker deliver the Gerald H. Elkan Distinguished Lecture in Science and Society, I am reminded of his driving desire to leave our world better than he found it through applying science for the common good. We are honored to be a part of his legacy."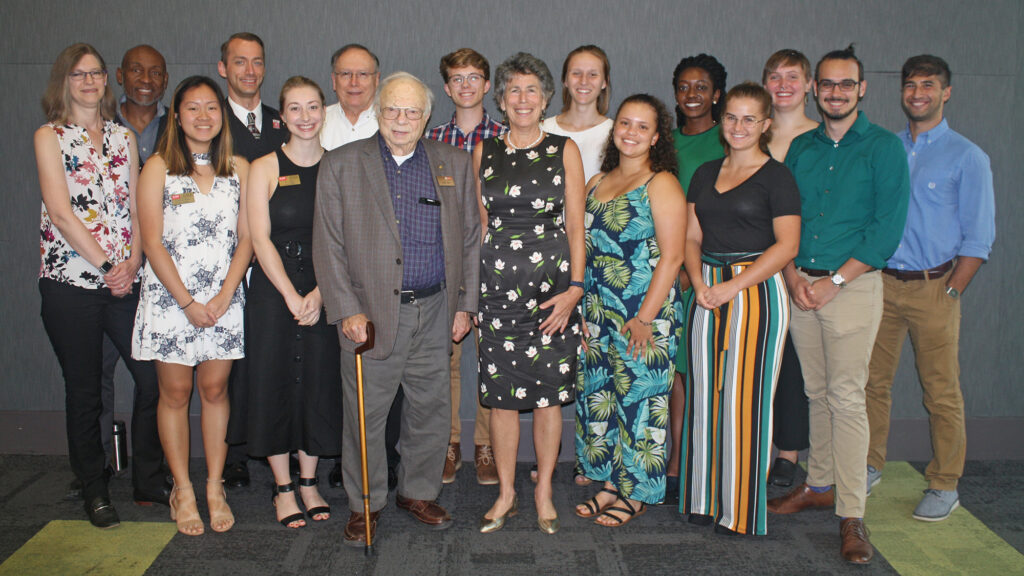 On Monday, Nov. 7, Park Scholarships will host the Gerald H. Elkan Distinguished Lecture in Science and Society featuring Professor Dorothy Roberts, with options to attend in person or online. Register here to attend the lecture.
Friends of Dr. Elkan are invited to gather in Talley Student Union 4280 on Monday, Nov. 7, 4-5 p.m., to celebrate his life before attending this year's Elkan Lecture. RSVP here to attend the celebration of life.
To honor Dr. Elkan, all are invited to make a gift to provide lasting support for the Gerald H. Elkan Distinguished Lecture in Science and Society.