Elizabeth Dogbe '21 grew up in Knightdale, North Carolina, and is a senior Park Scholar studying civil engineering. Through NC State's co-op program, she discovered a passion for transportation planning and traffic operations. With three semesters of real-world work experience, she will graduate this December ready to pursue a meaningful career making transit systems more equitable. At NC State, Dogbe is also involved with the Minority Engineering Program, Women's Transportation Seminar, Mental Health Ambassadors, and Co-op Ambassadors. In her spare time, she loves to read, cook, listen to podcasts, and binge her favorite Netflix shows. 
How did you learn about co-op opportunities at NC State?
I sort of stumbled into co-oping. I was in an interview with Kimley-Horn and Associates, a company that I had found at the Engineering Career Fair my sophomore year, and they said they would love to have me for either an internship or a co-op. As an eager 19-year-old I was, I said I was interested in co-oping without knowing exactly what I was signing up for. Luckily, the co-op director Mrs. Pam Floryanzia is a friend of mine's mom, so I went to her and asked her for information on the program. She was really the one who sold me on it — being able to work, get paid, have time off from school, and have it count towards my professional licensure were perks I could not imagine turning down.
Who encouraged you along the way?
Mrs. Floryanzia! She is a really supportive person and has seen the positive impact co-oping has had on other students' lives. She did everything she could to make sure I felt confident about co-oping before starting the program.
I also reached out to a Park alum, Caroline LaFollette '14, who had worked at Kimley-Horn and Associates. She shared her thoughts about the company culture and whether or not it was a good place to work. Her insight was incredibly helpful.
Another bit of help I got was from Eva Feucht '02, the director of the Park Scholarships program. Eva alleviated my financial concerns about paying for summer classes since I would have to take some to catch up on missed semesters. She made sure I could get Park funding over the summer so paying for classes wouldn't be an issue. That is something that I'll eternally be grateful for because there was no precedent for it, and if she hadn't cleared a way for that to happen I don't know if I would've felt financially secure enough to move forward with co-oping.
How did you know what company and or fields to pursue?
It's funny because I wish I had a better answer for this question, but the truth is that I accidentally wandered into both my field and the company. I was actually walking around at the career fair looking for a different company. The HR rep for Kimley-Horn saw me and said she liked my shoes, and we just started talking. I gave her my resume, another HR rep reached out to offer me a campus interview, and everything flowed from there.
As far as fields, I came into civil engineering with the intent to concentrate in structures, but Kimley-Horn doesn't offer structures co-ops or internships to undergraduates because you need a master's to work in the field. Because of that, I figured I'd just take a job doing whatever to get the work experience, and "whatever" turned out to be transportation planning and traffic operations (TPTO). I fell in love with that and switched my concentration a semester after my first rotation.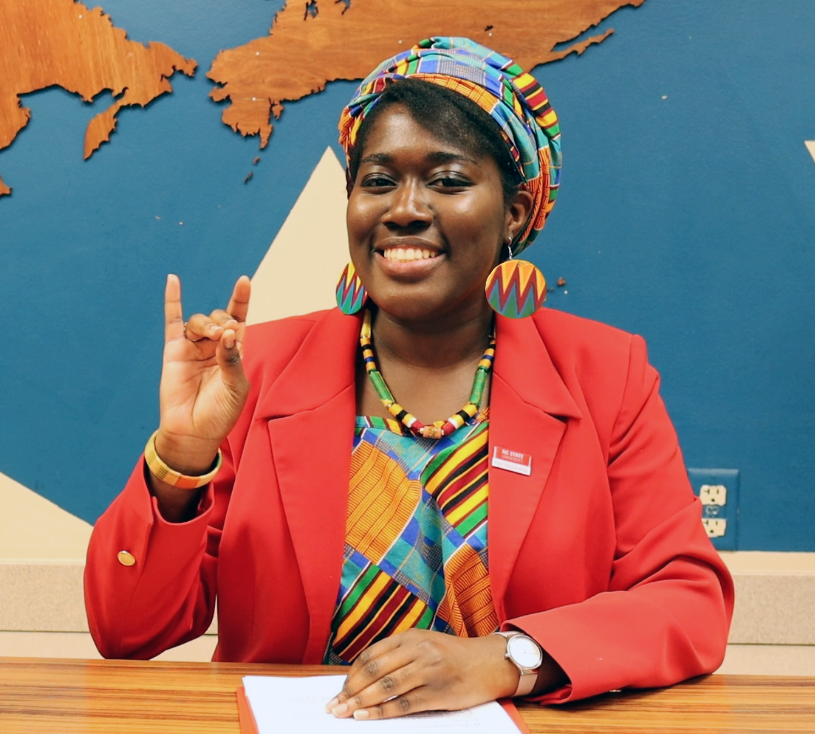 What made you fall in love with transportation planning and traffic operations?
It's so dynamic, very relevant to people's daily lives, and such a tangible way to make an impact in the world! A lot of traffic planning work is looking at how to optimize traffic and making guesses about driver behavior so congestion and crashes are minimized. In a city context, this means doing really neat math and simulations to figure out what signal pattern works best at what intersections, determining how to coordinate with other signals in area for smooth progression down a traffic corridor, figuring out if an intersection needs a signal or if it would it work best with a roundabout, things like that. I find modeling and optimization really interesting and I think that's why TPTO is so exciting to me.
TPTO is also where transit planning lives. As someone who has relied heavily on the transit system, I want to be able to influence transit planning and ensure it's equitable and useful for everyone, especially people of color (like me!) and lower-income folks.
What were your concerns going into a co-op program?
My main hang up was having to graduate a bit later, and how I was going to make that work with Park and my civil engineering curriculum.
I was also worried about what it would be like to work in an actual office – would I like it? Would I get along with everyone? Would it be weird being the youngest person there? My family also had a bit of anxiety that I would start working and decide not to continue with school — not something I was ever in danger of doing, but it was a new and scary thing for all of us and so anything seemed possible.
Were any proved true?
I did feel awkward in the workplace! When I started my first rotation I was 19, and the next oldest person in the office was maybe 22, so I felt a little out of place. A lot of social events were at bars, so I didn't go to nearly any, and interacting with my coworkers was fairly awkward until the very end of my first rotation.
Were any proved false?
I was concerned that extending the date of my graduation would be shameful or embarrassing, or make it harder to take the classes I wanted to when I wanted to. But there were other Parks I spoke with like Donnielle Jones '18 who also hadn't graduated with her class. They made me feel more secure in my decision, and the flow of my classes was barely affected at all. In fact, because I was forced to take some of my harder intro classes over the summer, I ended up doing very well in important foundational material that raised my GPA and made later coursework easier.
Also, while I do enjoy working more than I enjoy taking classes, it truly never crossed my mind to stop school and start working — if anything, getting to work made me more motivated in my classes because after my first rotation I knew what exactly I was doing all the work for. I had specific things I wanted to learn to make me a better engineer, and it made classes way more bearable, especially in the hard moments.
How did you overcome the concern about extending your graduation date?
I interacted a lot with other Parks who had also graduated "late." I think there was a lot of shame around it for me personally because late graduation is stereotypically associated with failing a class and being set back a bit. I realized that was not my situation (and even if it was, plenty of people graduate "behind schedule" for various reasons) and it was OK to take college at my own pace, especially for an opportunity like co-op.
How did your co-op actually work?
I am in a co-op program at Kimley-Horn and Associates, an engineering consulting firm headquartered in Raleigh, North Carolina. They offer a variety of engineering services, including the services I assisted with, which were Land Development (LD) and Transportation Planning and Traffic Operations (TPTO). My last rotation will be with Roadway Design. I applied and interviewed in October 2018 and started my first rotation in January 2019.
First Rotation: TPTO, January 2019 – May 2019
As a TPTO intern, I assisted with traffic signal design and intelligent transportation system (ITS) work. Traffic signal design involved going on site and surveying existing signals to identify the changes to make in design. ITS work involved the intelligent infrastructure behind traffic operations — communication between signals, electronic displays near roads, and other similar infrastructure. I updated plans to reflect changes that had been made by the designing engineers.
Second Rotation: Land Development, January 2020 – April 2020
As an LD intern, I had slightly more autonomy but was tasked with similar work. In LD, I created exhibits detailing project details for solar panel farm projects, corrected mistakes in existing exhibits for solar panel farm projects, and designed parking structures in various warehouse transformation projects. In LD, I got to make more design decisions (some of which ended up being edited out, but they trusted me to make them initially, nonetheless) and put my name on finished exhibits, which was exciting.
Third Rotation: Roadway Design, Summer 2021
This rotation is pending! But I will likely do tasks similar to what I did while I was TPTO: editing plans, going out in the field to take notes on existing conditions, and creating maps to illustrate project scopes.
What have you learned through the co-op program?
It was really cool to learn what I was like in a working environment, first and foremost. A big question I had coming into college was whether or not I would actually like my major, if I would genuinely enjoy getting up and doing engineering things every day for work. It was nice to learn that I did!
I also learned what it was like to work in a really friendly, supportive environment. Kimley-Horn is an amazing workplace with great employee benefits and fantastic people. Regardless of whether or not I work there after graduation, I'm glad that, especially as a minority, my first foray into the working world was enjoyable and it's set a standard for what a workplace should be like.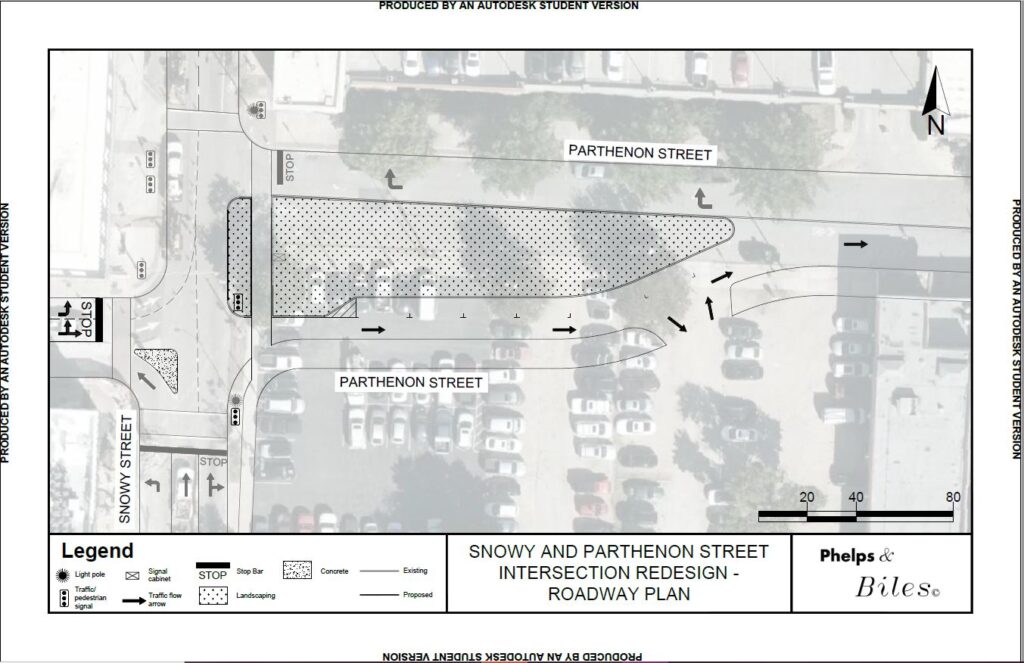 What have you produced or designed through your co-op experience?
My road! It is a culmination of all of the skills I had learned over my first two rotations and it was cool to bring that experience into the short summer program I participated in (which we had to do because of regular internships being cancelled due to the pandemic).
Did you meet cool mentors?
Yes! There were a lot of really kind and knowledgeable people I met in TPTO and LD. Most of the mentors I've kept in contact with were from TPTO, mostly because I took to the field so much. There were younger engineers that I text every so often for advice about classes, and I've contacted the more senior engineers for advice on graduate school and how to specialize in particular fields at the company. They're all sweet and helpful and I feel lucky to have them as resources.
How has participating in co-ops influenced your intended career path?
Like I mentioned above, it's changed a lot! I've found a different part of civil engineering that I really enjoy and I am much more suited to because of my first rotation in TPTO. I also now know for sure that I am not going to graduate school. It is something I've always been on the fence about, so it's nice to finally feel confident in that decision.
Beyond your co-op experience, you are a Park Scholar at NC State. What has been your favorite Park experience?
Definitely Learning Lab II! [Editor's note: Learning Lab II is a field experience that allows Park Scholars to develop a critical understanding of national and global challenges by interacting with prominent national leaders. In October 2019, Dogbe's class travelled to Washington, DC, to learn from leaders about their responses to domestic health care crises.]
First, DC is one of my favorite places, so it was cool to go there for free. Second, we got to learn a lot about the way health crises are typically dealt with on a governmental level, which ended up being very relevant given the current circumstances. We also happened to be in DC during a particularly chaotic time (Justice Kavanaugh's confirmation hearings) and regardless of what side of the issue you fall on, it was really cool to be in DC when such a historically and politically charged moment was happening. Also it was just neat to see a play and go to a restaurant and a museum and stay in a hotel in DC all for free. That's an experience I will likely never have again.
What are the best places on-campus and off-campus to grab a snack or meal?
On campus, it's hands down One Earth. The food there is incredible. Even after I got rid of my meal plan, it was one of the few places on campus where I routinely and freely pay real money to eat. Off campus it's tied between Sono Sushi and Carolina Ale House. Both are in downtown Raleigh and I highly recommend checking out either of them.
Where is your favorite study spot?
Definitely Hunt Library in the blue chairs next to the windows on the first floor, or on the silent floor at the very top. Those places definitely provided the peace and calm I needed to get through some of my hardest classes.
What's your favorite flavor of Howling Cow?
Java Bean! It isn't always in Talley Market, but when it is, java bean in a big ol' waffle cone is my favorite after-test/end-of-semester/literally-whenever treat.
What is the most underrated thing about being a student at NC State?
How close we are to Raleigh proper and how easy it is to participate in cultural events there! I guess it is something you technically learn during info sessions, but something I've missed most during the pandemic is easily being able to hop onto a GoRaleigh bus (with an NC State provided bus pass) and go to restaurants and plays and the ballet with relative ease. If there are a million things to do on campus, there are a billion more to do downtown. 
What advice do you have for NC State students considering co-oping?
Do it! Aside from pushing your graduation date, it is literally all upsides: you get to work for a semester instead of taking classes, which gives you a nice breather; you get paid, which gives you the chance to save money and get nice things for yourself; and you get real work experience in your chosen field. Even if you end up not liking it, you at least know that you need to switch your major to something else. Just make sure you start early and plot out your courses in detail. You'll need to work out what classes you have to take when and figure out what semesters you can reasonably take off for co-op.