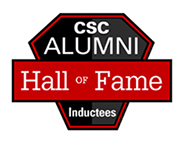 The NC State Computer Science Alumni Hall of Fame officially inducted five new members during a special ceremony held at the Park Alumni Center on Friday, Nov. 19. In addition, the department formally recognized the 2020 class of inductees, who were unable to celebrate in person last fall due to COVID restrictions in place at the time. More than 70 faculty, staff, award winners, their families, and special guests were in attendance.
The CSC Alumni Hall of Fame was established in 2017 to celebrate and recognize the exemplary contributions our outstanding graduates have made to their profession, their community, and to the world at large. With more than 10,000 CSC Alumni, only a select number will be chosen for recognition in our Alumni Hall of Fame making this a truly exceptional and noteworthy honor.
The 2021 class of inductees brings the total number of alumni honored in the Hall of Fame to 52. 
Award winners are presented a specially designed award to take home and they will be featured on a permanent display wall on the 3rd floor of EB2, near the department's main office. The Hall of Fame wall features an interactive component that is also accessible online.
The 2020 inductees into the NC State Computer Science Alumni Hall of Fame include Dr. Tommy Vitolo '00, Senior Associate, Synapse Energy Economics, and State Representative in the Massachusetts House of Representatives (profile).
In addition, the department recognized one 'Rising Star,' a computer science graduate who has graduated within the past 10 years: Veronica Cateté, a research scholar in the Department of Computer Science and a member of the Park Enrichment Grant Committee.
CSC Department head, Dr. Gregg Rothermel, extended his congratulations to the group saying "COVID forced us to cancel last year's event, so today, we will celebrate for both 2020 and 2021, recognizing the early career achievements of three alumni designated as 'Rising Stars' and honoring the career achievements of 10 outstanding computer science alumni by formally inducting them into our Alumni Hall of Fame! As Hall of Fame honorees, we hope that you will serve as an inspiration for current and future students, while promoting the department's global impact for producing incredible talent that embodies the university's mantra to 'Think and Do the Extraordinary!'."
Ken Tate, director of engagement & external relations, says "Collectively, this group has made its mark in the public and private sectors with dozens of patents producing new and innovative technologies. They've written hundreds of award-winning papers, and authored scientific books, poetry and novels. They have launched start-ups creating jobs and economic prosperity, they've launched content enjoyed by our kids and grandkids on Netflix, and they have helped put a library on the moon and a rover on Mars. From training middle and high school teachers how to help us broaden participation in computer science, to providing tools for breast cancer survivors, to crafting legislation on renewable energy and workplace safety, this group not only cares about the world, it has found a way to use their talents to make this a better world!"
Tate adds, "Every single year, we discover alumni doing amazing things and we look forward to discovering more in the future!"
A version of this article was originally published by the Department of Computer Science.