Despite a different kind of fall semester, with more online classes and safeguarded activities, thousands of new students are embracing what it means to be part of the Wolfpack. Our first-year and transfer students are resilient, innovative and dedicated to improving their community — and the world.
Meet some of the newest members of the Pack.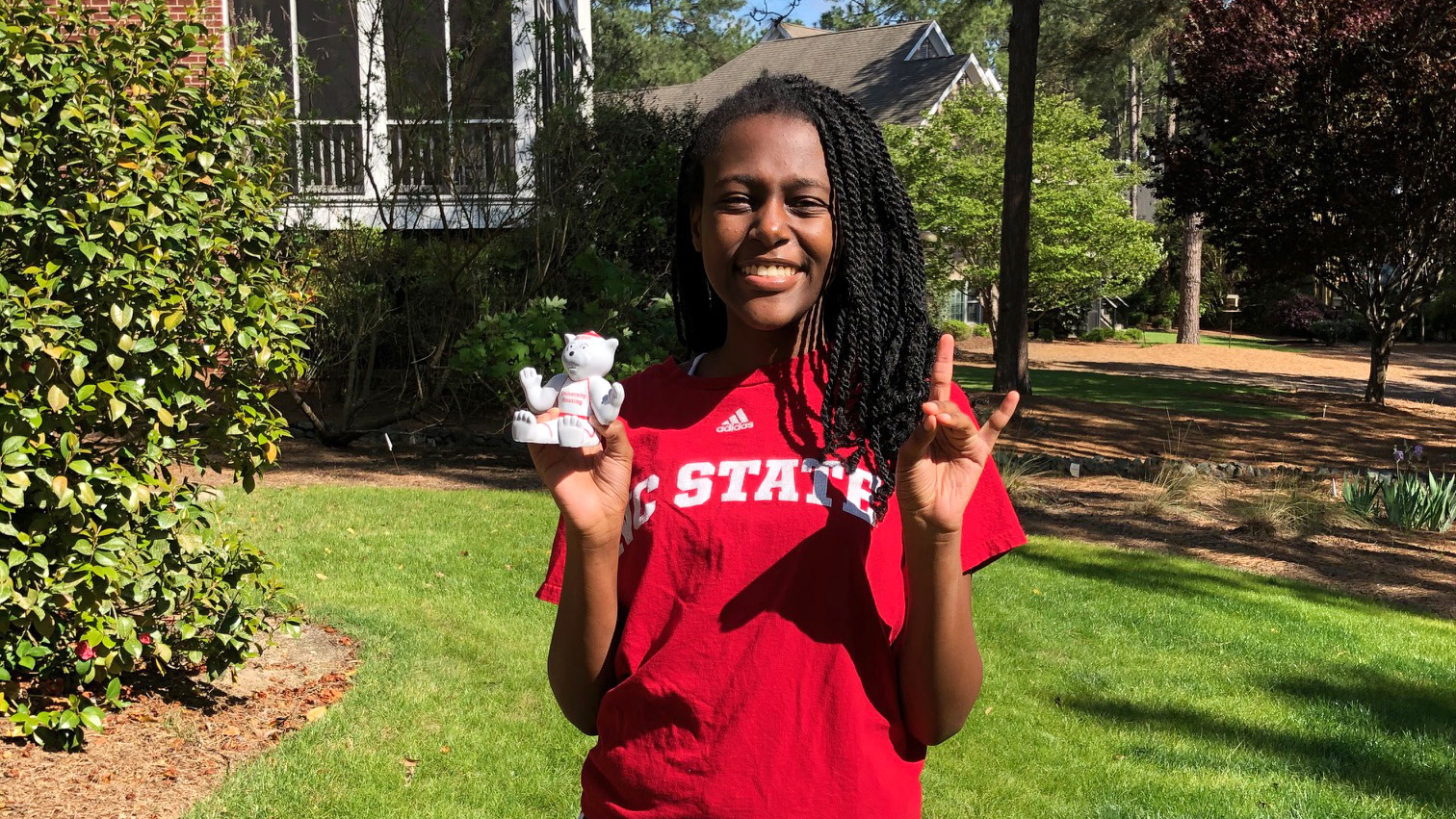 Niasha Kodzai: Dream It, Design It
A designer, musician and Park Scholar, Niasha Kodzai credits her success to her work ethic.
"I wouldn't be where I am now if it weren't for that," she said. "It's a mindset that I've kept with me for a lot of what I do, and I hope to keep it."
Kodzai, of Southern Pines, plans to major in industrial design. She's interested in studying psychology and music, too; she sings, plays the piano and ukulele, and is learning the guitar.
She's always loved visual art, though, and she's attended design camps at NC State since she was an eighth grader.
"I could always see myself here," she said. "I loved the environment and the design program."
She wasn't too disappointed when she became an alternate finalist for the Park Scholarship, knowing she wanted to attend NC State whether she got the scholarship or not. But when one finalist dropped out, Kodzai was able to attend the finalists weekend.
"The whole finalist interview process is a blur," she said. "But when I was there, I realized, 'Man, I'm going to be really sad if I don't get it.' I met so many people that I wanted to get to know more."
When she learned she was a Park Scholar, she was stunned. "My mom was screaming," she said. "It was a really, really cool experience."
Socializing on campus won't look the same this year, but Kodzai was able to start building relationships with other Park Scholars and industrial design students over the summer through video calls.
"I've gotten to know a lot of people I wouldn't have met otherwise," she said. "But the freshman experience is going to be a lot different this year."
During her senior year of high school, Kodzai designed pens and pencils of different textures to help children with ADD and ADHD focus. She's eager to dive headfirst into the College of Design, where she can develop even more skills to solve problems.
"I love being able to design things that could help people," she said. "Industrial design could give me the freedom to design anything under the sun."
Maab Aldulimy: Seizing Opportunities
Maab Aldulimy has faced a lot of challenges in her life. Her family fled Iraq and arrived in the United States when she was 10. Her father suffered an accident just as she was preparing to become the first in her family to attend college, diverting her onto a different educational path. Even once she had the opportunity to attend NC State, she wasn't sure if it was financially within her reach.
But she declares — emphatically — that her story isn't a sad one. "I feel like I'm a pretty blessed and happy person," said Aldulimy, a transfer student and chemical engineering major from Cary, North Carolina. "So many things could have stopped me, but I'm proud that I'm still pursuing my education, and also of my whole family and how we've supported each other and persevered."
Aldulimy spent the last two years at Wake Technical Community College, serving as an ambassador and a chemistry lab assistant while maintaining a 4.0 GPA and volunteering with a number of community organizations.
"It's very important to give back to the community," she said. "There are people coming to America now and facing the same things my family did, and I want to help them."
She has long dreamed of attending a research university and becoming a doctor but wasn't sure that could become a reality before she received a Goodnight Scholarship from NC State.
"It means so much to me that I'm able to pursue research and take classes and apply for medical school," she said. "That wouldn't have happened without the financial support I've received through the Goodnight Scholarship."
Aldulimy is still exploring potential medical specialities. She knows she eventually wants to volunteer with Doctors Without Borders to help people around the world with scarce medical access.
"Your life builds up to something, and I feel like I would like my life to build up to helping in a country where they don't have the resources they need," she said.
Because she came from a background where any level of education wasn't a guarantee, she's not taking any of her opportunities for granted. She's excited about taking organic chemistry for the first time and is exploring changing her major to biochemistry.
"I could be stuck in a war-torn region of Iraq right now and be illiterate," she said. "Since I've been blessed with the privilege to learn, I want to do it."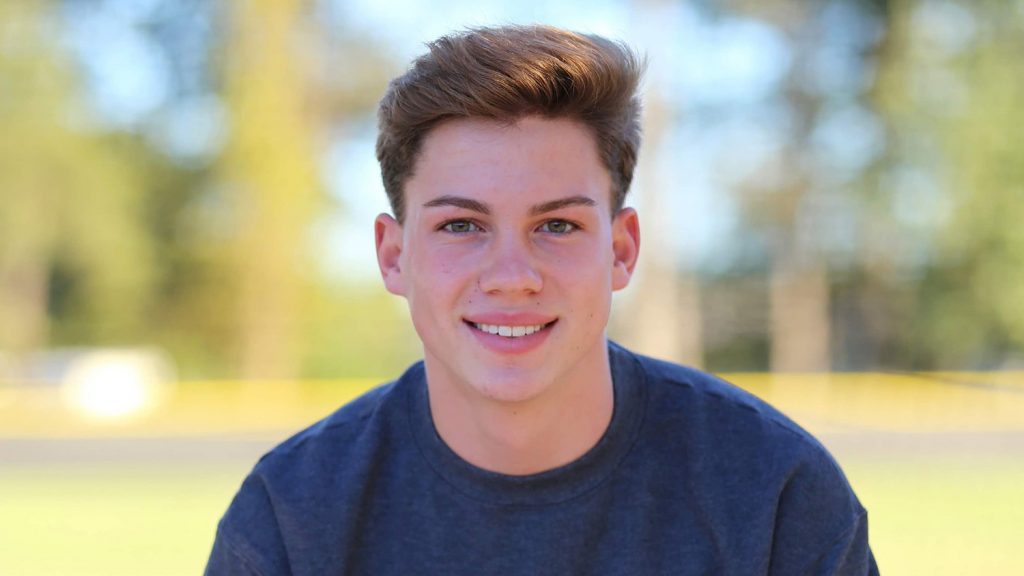 Tripp Johnson: Growing Home
When Tripp Johnson visited NC State's campus as part of the Institute for Future Agricultural Leaders, he knew he belonged.
The program, hosted by the N.C. Farm Bureau, introduced rising high school seniors to NC State's College of Agriculture and Life Sciences. Students visited an agribusiness, toured the campus greenhouses and discussed rural students' success.
"That's when I fell in love with NC State," said Johnson, a native of Benson, North Carolina.
Johnson has been in the agricultural world "forever," he said. He was in the National FFA Organization all four years of high school and served as a regional officer before becoming a state officer this year. As a regional officer, he's hosted workshops and leadership trainings. He plans to major in agricultural business management in the College of Agriculture and Life Sciences.
"I know in the future I really want to promote agriculture and agriculture literacy," he said. "By no means does everyone need to be an expert, but I feel like the general public should have an understanding of the ag industry as a whole, where their food comes from, who makes it."
Despite his accomplishments in FFA, Johnson says he's proudest of getting into NC State.
"NC State was literally the only school I wanted to go to," he said. "Getting into State, that was the biggest deal for me."
He's moving from Benson, population of 3,400, to Raleigh, population of 469,000, to live on campus this fall. He's excited to meet new people from different backgrounds.
"Do anything — don't let your small town define you," he said. "You can go anywhere you want as long as you set your mind to it."
Laura Cooper: New Adventures
Laura Cooper is an explorer.
"I like to try everything out," the Raleigh native said. "I enjoy the variety of doing different things and doing them wholeheartedly."
A freshman in the Wilson College of Textiles, Cooper is majoring in fashion textile management with a concentration in brand management and marketing. Marketing particularly appeals to her because of the different industries she could go into.
"You have so many options if you go into marketing," she said. "You could go into any job because every company needs that."
The College of Textiles captured her interest in 2019, when she participated in the Summer Textile Exploration Program. There, she got to design a homeware textiles collection and pitch her ideas. She also witnessed the screen-printing process, saw how weaving looms work and toured a local laboratory. During that summer and other visits to NC State, she was impressed by its commitment to hands-on learning.
"The overarching focus at NC State and in the College of Textiles was getting connected with the industry and immediately getting out there and working," she said.
When she's not learning about marketing strategy and consumer behavior, Cooper plans to join the Women's Club Lacrosse team, and she's engaging with like-minded students in the Wellness Village, one of NC State's Living and Learning Initiatives.
While the COVID-19 pandemic has moved many classes online and canceled some in-person activities, she's not letting it get in the way of trying out new things.
"My strategy is to go in with an open mind and see who I meet and what ideas I get," she said.
She's a part of the Wolfpack now. And that means she'll never have to explore alone.
"Everyone's in it together," she said. "There's a community spirit — we're all moving forward, and we're all getting to our goals together."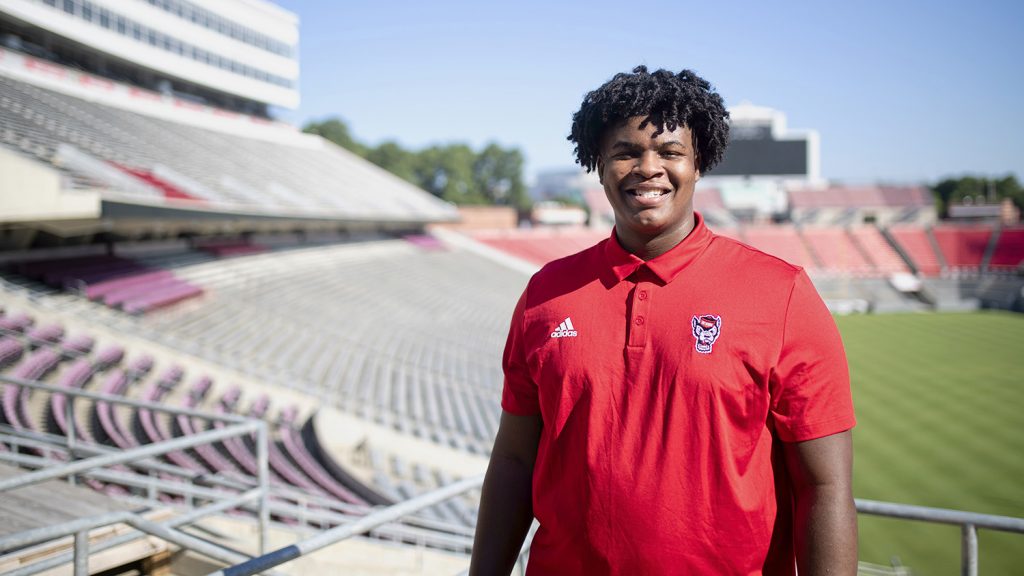 Anthony Carter: A Team Player
Anthony Carter is dreaming of the moment he gets to take the field on game day at Carter-Finley Stadium. "I can't wait to feel the energy and the atmosphere of the stadium," said Carter, a freshman offensive lineman from Charlotte.
The best part, for him, is getting to run out of the tunnel from the Wendell H. Murphy Center and take on the competition alongside his teammates.
"I love the brotherhood of football," Carter said. "You get to go out and have fun and show what you can all do together as a team."
Carter has been able to see that supportive team spirit and supportiveness in action in the NC State football family since the early days of his two-year recruitment process.
"I was injured my senior year of high school, and the program stuck with me," he said. "That really meant a lot."
Carter dove into his classes early through NC State's Summer Start program, and he's already learning how to balance football with academics and everything else that comes with starting your first year of college. He's excited for how his arts studies major with a visual art concentration will give him a chance to exercise his creativity.
"I started drawing and found a love for art at a young age," Carter said. "When I started playing sports I got away from art, but now that I can focus on both it works out perfectly."
His coaches and team staff help keep their athletes motivated to achieve in both athletics and education. "A motto for our team is 'chase two dreams,'" Carter said. "At some point football will end for all of us, and we know we should also chase academic success to prepare for the future."
So far, Carter is confident he's chosen the right team, both on and off the field. "NC State has great people, a great environment and a great education," he said.
One Year Wiser
We caught up with some of the students we profiled in last year's story to get their words of wisdom for this year's class.
Regan Mitchem, animal science
"The most surprising part about starting college at NC State has been the small community feeling despite NC State being the largest college in North Carolina.
NC State offers a wide variety of clubs, and joining them is a great way to make friends who share a common interest with you. Once you begin meeting people, NC State will begin to feel more and more like home."
Balla Ndure, electrical engineering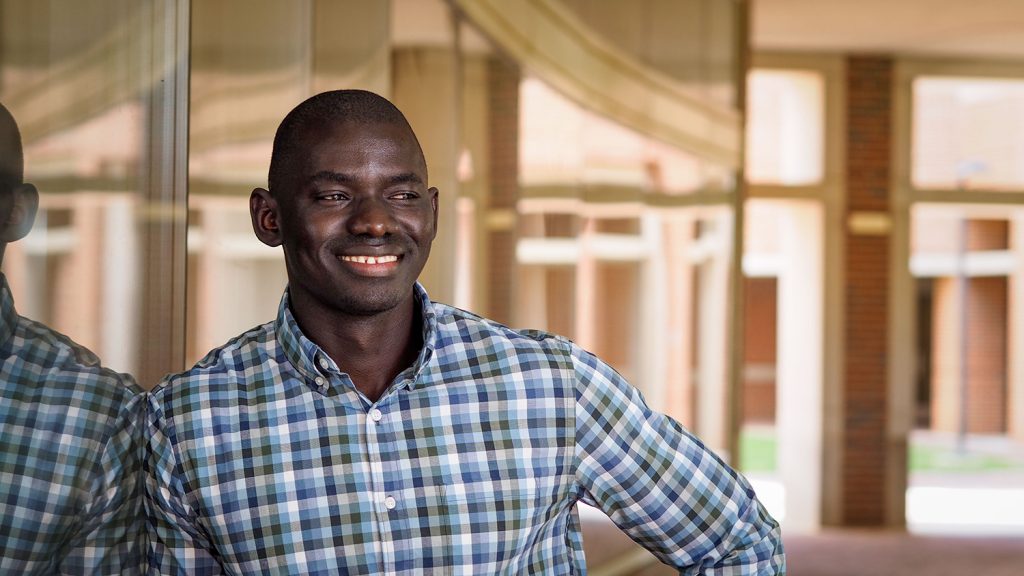 "The most surprising thing about my first year at NC State was just how fast the time went by. Cherish your time at NC State! Before you know it, you will be graduating.
Stay engaged, and keep up with your classwork. Deadlines will approach quickly, and most things take longer than you expect them to. Also, NC State provides numerous resources to help you succeed. I recommend utilizing these resources as much as possible."
Ritika Shamdasani, fashion and textile management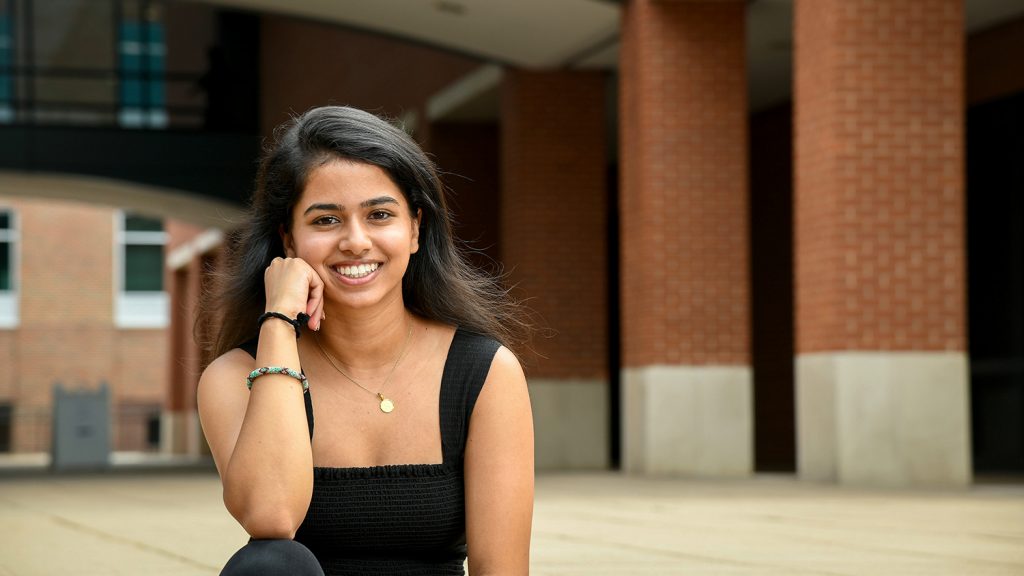 "My first year was filled with excitement and constant change. I learned that you have to be open to change, whether that is realizing the major you went into college with may not be the one for you or getting involved with organizations outside of your comfort zone.
Take advantage of the network around you. Befriend your professors, talk with people from outside of your major and get involved with activities that excite you. You never know who you will meet and how they can contribute to your personal and professional development."
This post was originally published in NC State News.