Article by Emily Packard | Executive Vice Chancellor and Provost News
NC State faculty, staff, and students have experienced many changes in their lives over the course of the spring semester, and summer didn't necessarily look like what they've experienced in the past. Regardless of the situation, the campus community came up with great ways to think and do both personally and professionally these last few months. Two Park Scholars were featured in the Executive Vice Chancellor and Provost news article. 
Sophomore, Park Scholar
Department of Civil, Construction, and Environmental Engineering, College of Engineering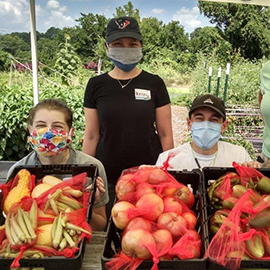 This summer, my big project was constructing raised garden beds for my family in their backyard. At NC State, I am involved with the Engineers Without Borders Chapter and I co-lead the Lesson Planning Team. This past year, my team has been working with Powell Elementary School in Raleigh to develop lesson plans related to their school garden and I have received funding from Park Scholarships to begin an international pen-pal program between the students at Powell Elementary and my friends in Malawi at Mzenga Secondary School who also have a garden. Given all my past service projects related to gardening, I was excited to finally try my own hand at it. I loved building the raised beds and learning about gardening, but the best part has been watching the plants grow. I had very low expectations for my plant survival rates, but everything has exceeded my expectations! The zucchini plants are particularly gigantic.
I have also been putting my new gardening skills to the test by frequently volunteering at the Food Bank of Central and Eastern North Carolina's community garden. I have volunteered over 30 hours at the Food Bank this summer and have harvested over 200 pounds of fresh produce that have been distributed to families in need in the region. I am hoping to continue to volunteer at the Food Bank throughout this fall semester.
Senior, Biomedical and Health Sciences Engineering and Economics; Park Scholar
Department of Biomedical Engineering, College of Engineering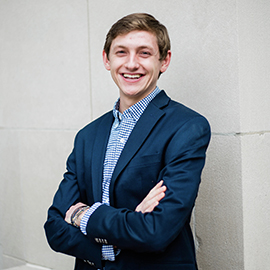 My name is Matthew Traenkle, and I am a senior Park Scholar studying Biomedical Engineering at NC State. During the Summer 2020 term, I had the incredible opportunity of working remotely with Duke University Health System in the Performance Services department. I filled the role of a Management Engineer, which included data analysis, reporting, and quality improvement projects across the health system including all three Duke hospitals. This work drew on the fundamentals of industrial engineering techniques and methods to improve processes and systems within hospital and clinic settings. Similarly to how a restaurant needs a system to turn raw ingredients into a completed meal or how manufacturing companies require people to oversee and improve the processes by which goods are created, healthcare systems need someone looking over all of the incredibly complex procedures and encounters that occur within a clinical setting.
Specifically relevant to our current scenario amidst the COVID-19 pandemic, I was able to work on two different projects related to analyzing and improving the response of Duke Health to coronavirus. First, I created a report comparing the impact of COVID-19 on Duke University Hospital and twenty U.S. News and World Report Honor Roll Hospitals across the nation, which helps quantify and qualify impact in North Carolina and provides insight into future objectives. Second, I developed a dashboard for staffing optimization across the three Duke hospitals, 42 primary care clinics, and 8 ancillary care areas. This tool helps health system leadership adapt with agility to the changing health landscape and ensure staff are able to provide care in the right place at the right time. I learned much about Duke Health this summer, and I look forward to continuing to grow and apply my knowledge of healthcare in my final year at NC State. Go Pack!
Read full article
This post was originally published in Provost's Office News.